A preseason game suddenly has meaning
Tonight was supposed to be a dinner date with my sister, but we are no longer going to dinner. I imagine we'll eat at some point, but it won't be downtown or at any sit-down restaurant for that matter.
Instead, we are going to the Kings game.
My sister is a sports fan and she does enjoy watching basketball with her brother I assume, but that is not why we are going. It is just a preseason game so not a lot to get excited about, but when I proposed the idea to my sister, she insisted on taking a ride to Sleep Train Arena.
Why? This is more than just an NBA game.
It is a time to once again reflect on what breast cancer can do to the ones you love. Three years ago, our Aunt Sylvie lost her battle with breast cancer and left behind a husband and two teenage children. After seemingly beating cancer not once, but twice, the disease took hold of her for good the third time. At 49 years old, she was gone.
Sylvie would never see her son and daughter graduate from high school.
Those tough teenage years just got a little harder for my two cousins who would no longer have their mother to lean on.
What they can gain from their loss is knowing their mother was a fighter. She kept pushing on until her final breath inside that dreary hospital room. The last walls she saw may have been a pale white that day, but that is not what she was accustomed to.
An artist by hobby, she took up painting in her final years. Among painting, she would often sketch out phrases and words to get her through chemotherapy sessions or the days when she just didn't feel like getting out of bed.
One word that appeared often was "strength."
That same word is now tattooed just along my sister's right shoulder blade. Not simply the word, but a perfect trace of Sylvie's hand writing before she passed.
The ink serves as a reminder to not only my sister but the entire family that a lifetime can sometimes be short.
We could go to dinner tonight, but instead we will go in support of all those families who have endured like ours the pain and hardships that come with losing someone to breast cancer.
Tonight, the Sacramento Kings are also surrounding one of their biggest fans — Sign Lady — with strength. Barbara Rust and her husband, Niko, have been Kings season ticket holders for 28 years. She was diagnosed a month ago with breast cancer. Now the team she fought for is now fighting for her. The team, along with thousands of others impacted by breast cancer, are coming together in solidarity to show their support for loved ones lost and those still fighting the disease.
If you are attending tonight's game, you can sign the banner pictured below on the concourse at Section 118 in Sign Lady's honor.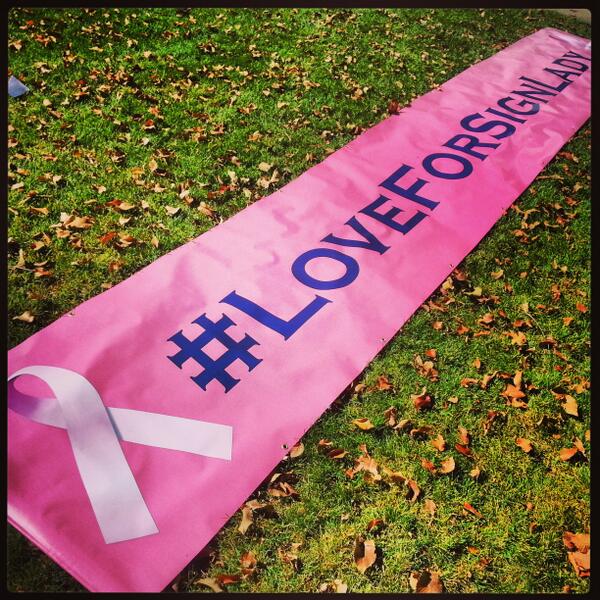 comments