From MIT Sloan Conference: Kings formula still not advanced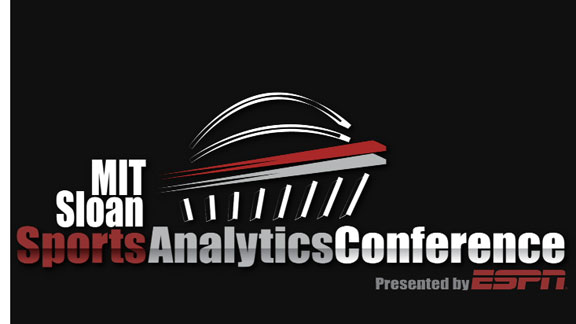 Much like the blogging community has infiltrated and changed the way sports coverage occurs, advanced stats have infiltrated and changed the way the NBA is viewed, analyzed and even played.
Advanced stats aren't everything by any means, but plenty of successful teams have embraced a different way of looking at the game of basketball. Daryl Morey and Mark Cuban integral parts of this conference and lots of NBA teams have had representatives at the MIT Sloan Conference the past few years. In fact, 41 people representing 17 different NBA teams were present at this conference over the weekend in Boston to check out the latest findings, theories and nerdom to come out of the fantastic work of all the presenters.
Even the Sacramento Kings sent Todd Randolph to see what the latest is in the advanced statistics world, according to the list of attendees given out.
Here's the problem though: there apparently is no Todd Randolph from the Sacramento Kings (added: basketball operations department).
Multiple sources confirmed to me that there is no Todd Randolph in the Kings organization unless he's such a secret scout of Geoff Petrie's that they've just never heard of him. The Kings are apparently still reluctant to embrace thinking smarter about the NBA and game of basketball. Last year, Jason Levien (then assistant general manager) had to pay HIS OWN WAY to attend and participate in the conference. This seems stunning to me that the Kings wouldn't kick a couple thousand dollars toward travel, room and ticket for this conference just to see if there was something smarter they could be doing about the direction of this team.
Over the past few years, the league has seemingly passed up the Kings in many ways. They've tried to band-aid together a wound that required stitches before finally heading to urgent care for some treatment. There has been good and bad to what they've done. They've drafted well while compiling a confusingly destitute team. It's not like advanced stats would solve all of the Kings' problems. But having a decent checks and balance system in place to at least give you another view into solving what you've been doing wrong seems like something that the team should at least TRY to do.
UPDATE: Tom Ziller says there is a Todd Randolph in marketing with the team. Could he be the mystery man?
Second Update: Randolph was the mystery man according to a couple of people, but there were still no real basketball people there for analysis work. I find this still completely troubling because they may have learned more about Facebook and the NBA than looking at how to analytically make the team more competitive. It's great to learn how to market the team better and make it a better business but if you're not looking into advancing the basketball culture itself, aren't you staying in an archaic sense of how basketball is played and viewed?
The hesitance, or downright refusal, to embrace advanced basketball theory isn't the biggest problem with this team. But you see lots of successful teams out there with their own stats guys. These teams (like the Mavs, Rockets, Hornets, Nuggets, etc.) are all in your conference and better than you. Maybe it's time to take a different approach.
comments